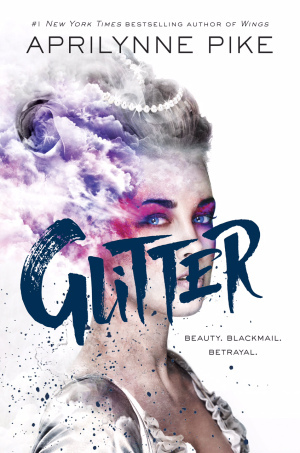 Publisher: Random House Books for Young Readers
Publish Date: October 25th 2016
Page Amount: 384 pages
Price: $17.99 Hardback
ISBN: 1101933704 (ISBN13: 9781101933701)
From #1
New York Times
bestselling author Aprilynne Pike comes a truly original new novel—
Breaking Bad
meets Marie Antoinette in a near-future world where the residents of Versailles live like it's the eighteenth century and an almost-queen turns to drug dealing to save her own life.

Outside the palace of Versailles, it's modern day. Inside, the people dress, eat, and act like it's the eighteenth century—with the added bonus of technology to make court life lavish, privileged, and frivolous. The palace has every indulgence, but for one pretty young thing, it's about to become a very beautiful prison.

When Danica witnesses an act of murder by the young king, her mother makes a cruel power play . . . blackmailing the king into making Dani his queen. When she turns eighteen, Dani will marry the most ruthless and dangerous man of the court. She has six months to escape her terrifying destiny. Six months to raise enough money to disappear into the real world beyond the palace gates.

Her ticket out? Glitter. A drug so powerful that a tiny pinch mixed into a pot of rouge or lip gloss can make the wearer hopelessly addicted. Addicted to a drug Dani can sell for more money than she ever dreamed.

But in Versailles, secrets are impossible to keep. And the most dangerous secret—falling for a drug dealer outside the palace walls—is one risk she has to take.
Is there anything special about this book that you are looking forward to?
If I say everything, I don't think that counts as an answer. In all honesty, I read the synopsis for the first time and I just thought that it was so unique! For one, I have never read a YA book where "the past" and "the future" are intertwined so closely. If you know me well, you also know that I love reading historical fiction and dystopian books, so this seems like the perfect fit for me.
After reading the synopsis several times, this reminds me of Red Queen by Victoria Aveyard. Not necessarily due to the plot, but the mindsets of the main characters (Danica and Mere) are extremely similar. I absolutely loved Red Queen so I'm interested to see if I will love this one too.

How did you hear of this book? From a Goodreads Search, Blogger Buddies, Twitter, etc.?
Nori from ReadWriteLove28
actually sent me an opportunity to spotlight this book on the Sunday Street Team. I suppose that the "Blogger Buddies" category fits the bill for this one! I just learned about this book today (about the middle of June) and I am shocked that I didn't hear about this one earlier through the grape vine!
Have you read any of the author's works before?
Nope! I've seen a lot of her books around, especially in my bookstores, but I've never read one myself! You should let me know what book of hers is your favorite in the comments - maybe I'll read a few before this book comes out!

What do you think about the cover? What about the title?
The cover is absolutely drop-dead gorgeous. I really hope this is the final cover because I think this cover is the definition of perfection. I love the colors, I love the model, I love the font used too...this cover for me is like a match made in Heaven.
The title and the cover definitely go together too! I don't have anything negative to say about the title because it ties into the synopsis very well! I love how the title pops on the cover too.
When is the release date for this book? Do you think you can wait that long to read it?
This book doesn't come out until October. I think I can wait that long to read it, only because I have some books that are already on my shelf that I would really like to get to (like The Raven Cycle series) But, if this book magically appeared in my hands tomorrow, I think it would shoot to the top of my to-be-read pile!
What do you think of this weeks pick? What are you waiting on? Let me know in the comments below!