Publish Date: July 7 2015
Page Amount: 372 pages
Price: $17.99 Hardback
ISBN: 1619635941 (ISBN13: 9781619635944)
"This thriller YA is
Scandal
meets
Veronica Mars
.
Sixteen-year-old Tess Kendrick has spent her entire life on her grandfather's ranch. But when her estranged sister Ivy uproots her to D.C., Tess is thrown into a world that revolves around politics and power. She also starts at Hardwicke Academy, the D.C. school for the children of the rich and powerful, where she unwittingly becomes a fixer for the high school set, fixing teens' problems the way her sister fixes their parents' problems.
And when a conspiracy surfaces that involves the family member of one of Tess's classmates, love triangles and unbelievable family secrets come to light and life gets even more interesting—and complicated—for Tess.
Perfect for fans of
Pretty Little Liars
and
Heist Society
, readers will be clamoring for this compelling teen drama with a political twist."
Earlier this year, I read
The Fixer
for my school's Battle of the Books (which you can read about here) and I absolutely fell in love. The political genre was new to me, and
The Fixer
was one of the first books that I had encountered to deal with the "behind the scenes" of Washington and what it really means to be an elite.
I have to admit, I didn't really know what to expect as I was walking into this book. I wasn't sure of how the plot was going to play out, what was going to happen, or even how much I was going to like the characters. I was a little skeptical of my personal connection with the characters just because this book is so intertwined with politics. I was scared that the giant scandals and conspiracies that occur in the book would take away from character development.
Looking back on it, I'm not really sure
why
I thought that. If anything, the complexity of the plot, political scandals and conspiracies actually
aided
the development of the characters based on how they handled each situation. Each character had their own way of dealing with the scandals that plagued their school. Some participated in spreading rumors, others did not. Some rushed to the aid of those targeted, others didn't. Some, like Tess, decided to face the scandals head on.
I really loved Tess as a character. Even from the beginning of the book, when it talks a bit about her life on her grandfather's ranch, I felt like I could really relate and connect with her. It's clear to see from her relationship with her grandfather that she is a really caring person. Not only that, but when Tess was living with her grandfather, she was basically living on her own and acting as a caretaker for her grandfather. I really admire her independence and strong-nature.
I also really loved to see her character develop through-out the plot of the entire book. I won't say much due to spoilers, but her strong-willed nature really shows through.
The Fixer
is the only book that I have read which portrays a "rebellious" character in a good light. Tess can be stubborn and can often be considered a "rebel" due to the amount of rules that she breaks, but she does it for the safety and protection of her friends and other loved ones. I really loved getting to understand Tess' thought process and also seeing the justifications for her rule-breaking (though, in all honesty, justifications were not necessary).
I admire Tess as a character for many reasons as well. In
The Fixer
, there are a lot of adults that outright refuse to listen Tess and treat her almost like she is less than human. Even with no support, being told that she is lying and people refusing to listen to her, Tess powers on,
still
trying to do the very best she can. That is not only a great quality to have as a fictional character, but a great one to have as a
person
too. Seeing Tess doing what she
knows
is right, even when everyone else tries to discourage her, shows her strength as a character and desire to do good.
In fact, it reminds me of this quote (I apologize for the X blocking the speech bubble but I pulled the picture from Twitter):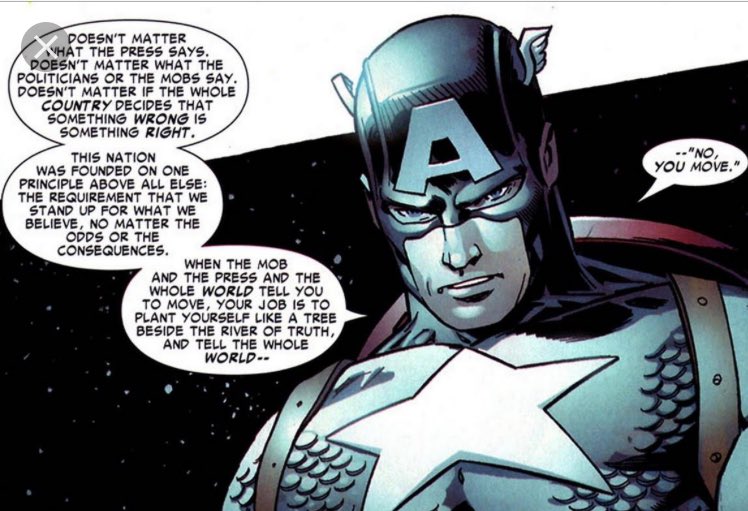 Tess is just such a great character and I instantly connected with her. She is one of my favorite characters ever and I am so very happy with how her character changes and develops throughout The Fixer.
Ivy's character also started out as a bit of a mystery to me: as a reader, I didn't know a lot about her or how she acts. Her job requires her to be very secretive and as a result, she doesn't appear to be a very open person. However, as the book progresses, you learn more and more about Ivy's life. Let's just say that there is a reason that she has been oh-so-secretive!
I also really love Ivy too. I can't really say why without revealing important plot details, but it is so obvious that she cares a lot for her sister, even if it doesn't seem like it at first. The job may have conditioned Ivy to be "stone-cold" but she definitely doesn't behave that way with Tess. Or, at least she tries not to be.
Overall, I really loved The Fixer. This book was the first YA political thriller that I have ever read, and it certainly won't be the last. The strong cast of characters, complicated political scandals, and unbelievable secrets will keep you hooked on the plot and guessing until the very last page. This is truly a book that needs to be in the hands of every reader and deserves all of the success that is coming to it.
Rating: 5 out of 5 stars