Second Thoughts (The Sententia #2) by Cara Bertrand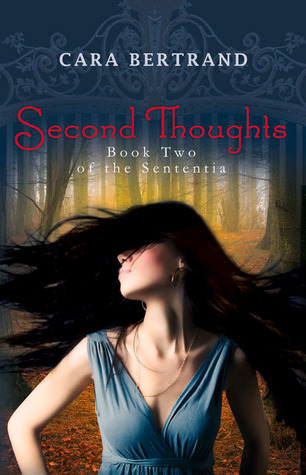 Author: Cara Bertrand
Publisher: Luminis Books, Incorporated
Publish Date: October 1st 2014
Page Amount: 208 Pages
Price: $11.95 Paperback and $19.95 Hardcover
ISBN: 1935462075 (ISBN13: 9781935462071)
"The continuing adventures of an ordinary teenage girl with extraordinary mental abilities, perfect for readers who love books and series such as Vampire Academy, Spellbound, and Sweet Peril.
Secrets, lies, and looming deaths—all things Lainey Young deals with in a typical day of high school. In her senior year at Northbrook Academy—a New England boarding school where the majority of the students and nearly all the staff are members of the Sententia, a hidden society of the psychically gifted—Lainey has even more to worry about. Things like classes, college, her boyfriend, and, of course, the vision she glimpsed of her impending death. But to her surprise, Lainey finds one worry she can cross off her list, namely Senator Daniel Astor, the leader of the Sententia. After a shocking discovery when they finally meet, Lainey realizes maybe she was wrong to distrust the Senator. She relaxes even further when he seems to accept her refusal to work for him after graduation. But with her secrets mounting and the time to solve them running out, there's a final enigma Lainey hasn't yet encountered: Daniel Astor doesn't take no for an answer. Ever." (Goodreads Description)

I really enjoyed reading this book!

Cara Bertrand has a special way of creating a story that ALL readers will relate to. This series follows Lainey, a confused, high school senior who has a special gift. Her kind is call the Sententia, and the people within in have all of the God given gifts you could ever imagine. Cupids have the ability to detect love, Sirens can secretly make a person obey every command, with enough persuasion. However, Lainey is special. She has TWO gifts, with one of them being extremely rare. She is a Diviner, but she also possesses the Hangman's Gift, which means not only can she see "visions" of the future just by her sense of touch, Lainey can also be a murderer, and a savior. The Hangman's Gift allows Lainey to take the life out of anyone that she touches, when she desires to. Her gifts make her a savior, after she rescues Jill from a death that Lainey caused. She is the rarest of the Sententia, and with that comes great responsibility and honor.

But there is a catch. Her gifts might just end up killing her.

I give this book 5 out of 5 stars. As soon as a reader opens the novel, Lainey's world takes shape, and the reader is sent on a fantastic adventure.

I feel like I missed out on a lot of the story by not reading the first novel in the series. However, I really appreciate that the second novel in this series was SO detailed! I felt like I could jump right into this story and connect with the characters right away!

I also really enjoyed how much the reader was able to connect to Lainey and Amy. I think it is important for the reader to connect with the main character and a supporting character, and not just one of the two. This story had the perfect balance of main vs. supporting characters! I also feel that, by getting to know Lainey's roommate, Amy, the reader is better able to understand the challenges that Lainey goes through every day, and how she has to hide the biggest part of her life from one of her best friends.

I also thought the plot was beautifully crafted. Lainey's conflicts and struggles reflected the struggles of a high school student - maintaining good grades, applying to colleges, trying to have a social life, you name it! The struggle was there! These struggles that Lainey have help to show the reader that she is a real person and that she is not perfect! Lainey has the perfect personality for this series!

The ending of the novel left me thirsty for more, and I cannot wait until this novel hits the bookstores! I cannot wait to see what my friends think of this series!

Bertrand has an exquisite writing style that is about as unique as her storyline. Her words bring her characters to life, and by doing so, establish a connection between not only the reader and the characters, but the author. There is nothing more valuable that a novel can have. I could not have asked for a better story.

I received an Advanced Review Copy of this novel from the Goodreads Giveaway promotion.

Rating: 5 out of 5 stars.