This week's Top Ten Tuesday post was about finding books that have less than 2000 ratings on Goodreads that we enjoyed reading this year. As someone who has struggled to find the time to read (that is, until now) I noticed that a lot of the books that I have listed here have also appeared in other blog posts and Top Ten Tuesdays that I made.
I guess that is what you get when you read some really great books.
In all honesty, these books are all amazing. The fact that they have been mentioned on the blog several times and included in several posts should show their value! I've also included links to my reviews of all of these books too, in case you want to know some of my more "in-depth" thoughts about them. Just click on the title of the book to be taken to my review!
Zenith: The Androma Saga by Sasha Alsberg and Lindsay Cummings
Most know her as the Bloody Baroness, the captain of a fearsome glass starship called The Marauder. Androma and her crew strike terror in the hearts of those who cross them amongst the many corners of the Mirabel Galaxy.When a routine mission goes rogue, the all-female crew is captured by a bounty hunter from Andi's past and forced into a job that could, quite literally, start a war that will devour worlds.Meanwhile, on the far side of the galaxy, the ruthless ruler Nor waits in the shadows of the planet Xen Ptera, biding her time. The final pieces are about to fall into place, liberating a plan that will tear Mirabel in two.As the Marauder hurtles toward the unknown, there is one lesson that proves to be true: No one can be trusted in a galaxy that runs on lies and illusion.From internet sensation Sasha Alsberg and multi-genre author Lindsay Cummings comes a new serialized space opera, full of action, intrigue, and steamy star-crossed romance.
Zenith: The Androma Saga
will be released in small sections at a time.
The adventure begins June 21st, 2016, wherever ebooks are sold.
Black Widow: Forever Red by Margaret Stohl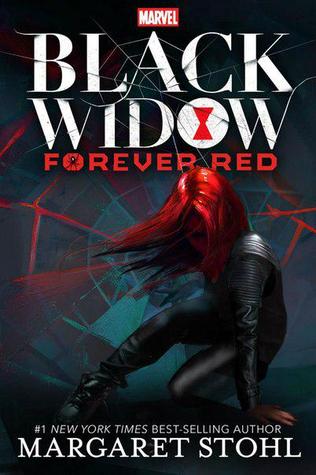 Enter the world of the Avengers' iconic master spy…
Natasha Romanoff is one of the world's most lethal assassins. Trained from a young age in the arts of death and deception, Natasha was given the title of Black Widow by Ivan Somodorov, her brutal teacher at the Red Room, Moscow's infamous academy for operatives.
Ava Orlova is just trying to fit in as an average Brooklyn teenager, but her life has been anything but average.The daughter of a missing Russian quantum physicist, Ava was once subjected to a series of ruthless military experiments—until she was rescued by Black Widow and placed under S.H.I.E.L.D. protection. Ava has always longed to reconnect with her mysterious savior, but Black Widow isn't really the big sister type.
Until now.
When children all over Eastern Europe begin to go missing, and rumors of smuggled Red Room tech light up the dark net, Natasha suspects her old teacher has returned—and that Ava Orlova might be the only one who can stop him. To defeat the madman who threatens their future, Natasha and Ava must unravel their pasts. Only then will they discover the truth about the dark-eyed boy with an hourglass tattoo who haunts Ava's dreams…
Black Widow: Forever Red
features all the heart-pounding adventure readers expect from Marvel, written by #1 New York Times best-selling author Margaret Stohl. Uncover a new side of the Marvel Universe that will thrill loyal fans and newcomers alike, as Stohl reveals the untold story of Black Widow for the very first time.
Pretending to be Erica by Michelle Painchaud
We Were Liars
meets
Heist Society
in a riveting debut!
Seventeen-year-old Violet's entire life has revolved around one thing: becoming Erica Silverman, an heiress kidnapped at age five and never seen again.
Violet's father, the best con man in Las Vegas, has a plan, chilling in its very specific precision. Violet shares a blood type with Erica; soon, thanks to surgery and blackmail, she has the same face, body, and DNA. She knows every detail of the Silvermans' lives, as well as the PTSD she will have to fake around them. And then, when the time is right, she "reappears"—Erica Silverman, brought home by some kind of miracle.
But she is also Violet, and she has a job: Stay long enough to steal the Silverman Painting, an Old Master legendary in the Vegas crime world. Walking a razor's edge, calculating every decision, not sure sometimes who she is or what she is doing it for, Violet is an unforgettable heroine, and
Pretending to be Erica
is a killer debut.
Elixir by Ted Galdi
Meet 14-year-old Sean Malone. He has an IQ above 200, a full-ride scholarship to one of the country's top universities, and more than one million dollars from his winning streak on Jeopardy. However, Sean wishes he could just be normal.
But his life is anything but normal. The US government manipulates him, using him as a codebreaker in pursuit of a drug lord and killing innocent people along the way.
For reasons related to his personal security, Sean finds himself in Rome, building a new life under a new name, abandoning academics, and hiding his genius from everyone. When he's 18 he falls in love. The thrills begin again when he learns that his girlfriend is critically ill and it's up to him to use his intellect to find a cure, a battle pitting him against a multi-billion-dollar pharmaceutical company and the demons of his past.
Elixir
is a story about identity, secrets, and above all, love.
How I Fall by Anne Eliot
*WHAT IF YOU HAD AN IMPOSSIBLE CRUSH?*
Impossible because she's Ellen Foster. The beautiful, smart, and possibly fragile photography-girl. You're Cam Campbell. The guy who plays football 24/7 with no life. But what if during junior year, you decide to finally try for her phone number—until this glitter-crazed new girl ruins your plan. Worse, the girl is Irish, awkward, and insists you and Ellen should become best friends—with her! Only, you don't want to be friends with a human tornado, and you think Ellen might need to stay a crush. This is because after one interaction you've discovered Ellen Foster really is fragile. Your problems and secrets are too big for anyone to understand.
*WHAT IF YOU COULDN'T RESIST?*
But what if the three of you wind up assigned to a group photography project, where rumors are already circling about the new girl being ridiculous? You know she's nice but very alone, so you convince your crush to help protect the new girl. Suddenly, working on the project makes hanging out, texting, talking—and even high school—seem fun and completely normal when it's anything but normal.
*WHAT IF YOU KISS*
What if you kiss Ellen Foster and it's perfect enough to make you believe in things you shouldn't. You tell her secrets and share your dreams. You make the kinds of promises and create plans to be together that might be impossible to keep when you're only sixteen and your parents control your entire future,
but...
*WHAT IF YOU HURT HER...*
High School Romance, Sweet young adult.Book one in the two-book
How I Fall series
, ending with
How I Fly.
Positive: A Memoir by Paige Rawl
In this compelling and compulsively readable memoir, nineteen-year-old Paige Rawl tells the story of how she was mercilessly bullied in middle school...and how she overcame the ordeal to change her world for the better.
In this astonishing memoir, Paige tells a story that is both deeply personal and completely universal—one that will resonate deeply with the thousands of children and adults whose lives have been touched by bullying.
Paige Rawl has been HIV positive since birth…but growing up, she never felt like her illness defined her. It never prevented her from entering beauty pageants or playing soccer or making the honor role.
On an unremarkable day in middle school, while attempting to console a friend, Paige disclosed her HIV-positive status—and within hours the bullying began. She was called "PAIDS," first in whispers, then out in the open. Her soccer coach joked that she was an asset because opposing team members would be too afraid to touch her. Her guidance counselor told her to stop all the "drama," and her principal said she couldn't protect her. One night, desperate for escape, Paige swallowed fifteen sleeping pills—one for each year of her life to date. That could have been the end of her story. Instead, it was only the beginning.
The gripping first-person account of Paige's life will pull in even the most reluctant readers of nonfiction, and her call to action to choose compassion over cruelty will stay with them long after they turn the last page.