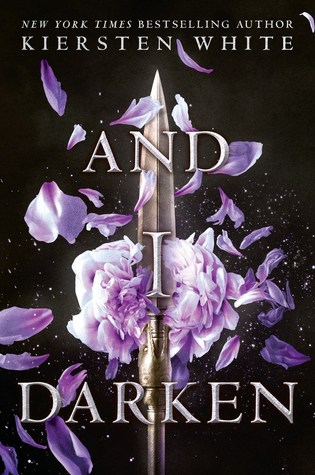 Publisher:
Delacorte Press
Publish Date: June 28th 2016
Page Amount: 475 Pages
Price: $18.99 Hardback
ISBN: 0553522310 (ISBN13: 9780553522310)
No one expects a princess to be brutal. And Lada Dragwlya likes it that way. Ever since she and her gentle younger brother, Radu, were wrenched from their homeland of Wallachia and abandoned by their father to be raised in the Ottoman courts, Lada has known that being ruthless is the key to survival. She and Radu are doomed to act as pawns in a vicious game, an unseen sword hovering over their every move. For the lineage that makes them special also makes them targets.

Lada despises the Ottomans and bides her time, planning her vengeance for the day when she can return to Wallachia and claim her birthright. Radu longs only for a place where he feels safe. And when they meet Mehmed, the defiant and lonely son of the sultan, Radu feels that he's made a true friend—and Lada wonders if she's finally found someone worthy of her passion.

But Mehmed is heir to the very empire that Lada has sworn to fight against—and that Radu now considers home. Together, Lada, Radu, and Mehmed form a toxic triangle that strains the bonds of love and loyalty to the breaking point.
Victoria Aveyard's RED QUEEN meets Sarah J Maas' THRONE OF GLASS in this historical fiction by MIND GAMES author Kiersten White.
Lada Dragwyla and her younger brother Radu have lived peacefully in Wallachia --- their father's kingdom --- for as long as they can remember. But just because the pair have been living peacefully doesn't mean they have been happy. Lada is forced to follow in her mother's footsteps, knowing all well that the only value she holds is in marriage to create an alliance, even if that's not what she wants. Radu, on the other hand, has been forced into the spotlight as the "Son of the Dragon", as he has been taking classes to learn how to become a true warrior. Lada would kill for that opportunity --- literally.
But when Lada learns of chaos coming to their humble home which threatens her father's rule, it tears their life apart. Under the pressure of an Ottoman authority, Lada's father surrenders his children to the Ottoman Courts, causing the pair to adjust to a completely different lifestyle, with different people, rules, and expectations. But the "Daughter of the Dragon" has her own bite, and she doesn't play by the rules --- even if it means the lives of herself and her brother could be taken away in an instant.
Being the history buff that I am, I fell in love with the way that Kiersten White brings the Ottoman Empire into a fictional story. White is able to flawlessly weave the fabrics of reality and fiction together, bringing in historically accurate information into a story while putting her own spin on the time period. I almost forgot that this story was a fictional encounter, and didn't actually occur in history!
While adjusting to the new lifestyle in the Ottoman Courts, Lada goes through not only a change in her lifestyle, but several transformations of her personality, values, and morals. Lada, being more of a female Vlad the Impaler in the beginning of the book, not only questions her life back in Wallachia, but how she has treated others, what she values and what she wants her future to be. Radu, Lada's brother, also goes through a period of transformation, questioning his family, his home, and above all, his religious beliefs.
As a teen myself, I enjoyed seeing these characters question what they have been taught and the situations they have grown up in. I think that this questioning helped to change and strengthen their frame of mind, and it was not all that different to what young adults and teenagers do during our transition from our adolescence to our adult lives. Seeing uncertainty, doubt, and fear on the page made these characters human, and ultimately, helped me connect with them a lot more as a teen reader going through the same questioning of everything that I know.
AND I DARKEN follows Lada, Radu, and a slew of other characters during very important times in their lives. The book opens during Lada and Radu's time in Wallachia, their homeland, and progresses through their time in the Ottoman Courts. Within both of these settings, characters are introduced to new and tricky scenarios, and forced to make decisions that will change the course of their lives. It does take the characters quite some time to make decisions and see the consequences of their actions, so the plot progression can be slow at spots in the book. However, once the characters begin to realize the consequences of their choices, the plot thickens, and several high-intensity scenes occur right after another.
I would recommend AND I DARKEN to anyone that likes to read Young Adult literature. Because the book takes place within the Ottoman Empire, AND I DARKEN does include references to historical events and figures.AND I DARKEN already had me sold on the "gender-swapped Vlad the Impaler" piece, but the story is much more than these historical tidbits. Sure, AND I DARKEN showcases the successes and perils of the Ottoman Empire, but also explores the concepts of free will, hope, family and religion in ways that all readers understand. Kiersten White crafts a thought-provoking, captivating, and enthralling tale of two young siblings trying to find their place in the world and discover who they truly are.
Rating: 5 out of 5 Stars
FTC Disclaimer: I received this book from Emma's
ARC ADOPTION AGENCY
in exchange for a review. This in no way affects my review of the book. All reviews are honest and my own.