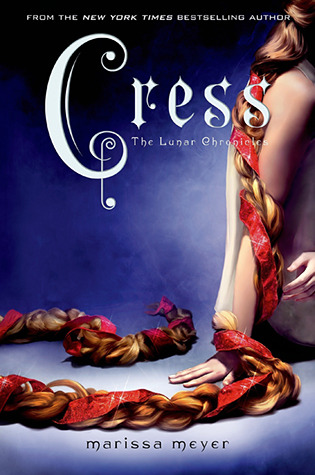 Publisher: Feiwel and Friends
Publish Date: February 4th 2014
Page Amount: 550 Pages
Price: $11.44 Hardback
ISBN: 0312642970 (ISBN13: 9780312642976)
"In this third book in the Lunar Chronicles, Cinder and Captain Thorne are fugitives on the run, now with Scarlet and Wolf in tow. Together, they're plotting to overthrow Queen Levana and her army.
Their best hope lies with Cress, a girl imprisoned on a satellite since childhood who's only ever had her netscreens as company. All that screen time has made Cress an excellent hacker. Unfortunately, she's just received orders from Levana to track down Cinder and her handsome accomplice.
When a daring rescue of Cress goes awry, the group is separated. Cress finally has her freedom, but it comes at a high price. Meanwhile, Queen Levana will let nothing prevent her marriage to Emperor Kai. Cress, Scarlet, and Cinder may not have signed up to save the world, but they may be the only hope the world has." (Goodreads Description)
This review will not be completely spoiler-free, but I will try and make it as spoiler free as I can.
Cress is absolute perfection. This story will stay with me for an extremely long time. Much like the other books within the series, Cress has something special within it, a spark. Cress is unlike anything I have ever read before.
Character development has a huge part in making this story unique and "successful". As it is the third book in a series, the characters that we have seen since book one, like Cinder and Iko, have gone through several struggles, and do not come out unscathed from all of this. Cress is where the reader gets to see the consequences of these struggles reveal themselves, and not all of them are bad. *spoiler* For example, Cinder makes the decision to try and rescue Cress from the satellite that is circling Luna. Cinder's decision is one that is definitely risky, and while the reader knows by now that Cinder makes risky decisions, Cinder is making this decision to save someone else, rather than herself. Cinder has always been a thoughtful character for others, however, in this situation, Cinder is willing to risk her life for someone that she barely knows. This is a good consequence from the events that unfold in the previous books, simply because Cinder knows now what it is like to feel isolated and alone, used and abused, and she wants to save as many people from that fate as she can. *end spoiler* Cress contains several heroic acts, and with these heroic acts come consequences, but each of these acts serve as inspiration, for both the other characters, as well as the reader.
Another reason why this book amazed me is because of the new characters that are introduced. Cress is a young girl who finds herself trapped in a spaceship that circles Luna endlessly. She has never seen ground before. She is scared and afraid, but also curious about what will come to her should she ever touch the ground to begin with. Cress' story is based on that of Rapunzel, and Cress even has the extremely long, beautiful hair to match.
Rapunzel has to be one of my favorite fairy-tales, so I instantly felt a connection to this character. But what makes Cress special, is her development even within the first few sentences of the reader meeting her. The emotional pull with this character is so strong and especially well-put together. From the second the reader hears about her, everyone will be rooting for her.
Personally, I loved Cress because her vulnerability was so well explored. Throughout the book, the reader is able to see some of the naive decisions she makes, whether it is from stalking a "certain someone" (*swoons*) over the internet, or being completely blinded by love that proper judgement never quite makes it to her. These decisions actually end up "saving" her, in the sense that the reader is able to see the real Cress, the true Cress. Her naivety shapes her as a character, and throughout Cress, this naivety begins to fade and change, into experience.
Cress is a "real" person, in a fictional book. Her presence makes the story line, it makes the book. Plus, her involvement with a "certain someone" has the Lunar Chronicles fandom swooning!
I appreciated this story with all of my heart. Cress is by far one of the best books I have ever read. Cress will stay with me for a long time. Readers of all types will enjoy this adventure-filled, emotion-driven story with the characters we have grown to love. The Lunar Chronicles in general, along with Cress is a must-read. Readers will not be disappointed!
Rating : 5 out of 5 Stars!