Hi guys! Today I am posting on behalf of the Harper Summer 2016 tour, and I couldn't be more excited!
Wait, what is the Harper Spring 2016 tour?
A bunch of book bloggers (including myself) joined together with Irish Banana Blog Tours and Harper to promote some of their books coming out in the summer publishing season this year! If you go through all of our posts (which you should do if you want to enter to win the
massive
giveaway at the bottom of this post), you will see summaries and other information about all of the books that are soon to come from Harper!
That being said....the book that I am covering for this tour is
CHANGE PLACES WITH ME by LOIS METZGER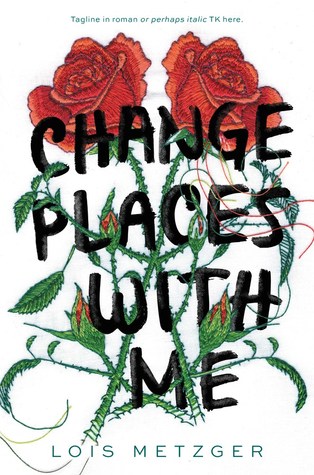 Publisher: Balzer + Bray
Publish Date: June 14 2016
Page Amount: 224 pages
Price: $17.99 Hardback
ISBN: 0062385534 (ISBN13: 9780062385536)
SUMMARY
From Lois Metzger, acclaimed author of
A Trick of the Light
, comes a work of speculative fiction set in the near future about a teen girl who finds a new, mysterious perspective on her life.
Rose has changed. She still lives in the same neighborhood with her stepmother and goes to the same high school with the same group of kids, but when she woke up today, something was just a little different than it was before. The dogs who live upstairs are no longer a terror. Her hair and her clothes all feel brand-new. She wants to throw a party—this from a girl who hardly ever spoke to her classmates before. There is no more sadness in her life; she is bursting with happiness.
But something still feels wrong to Rose. Because, until very recently, Rose was an entirely different person—a person who is still there inside her, just beneath the thinnest layer of skin.
A bold and original work of speculative fiction set in a familiar future, Lois Metzger's latest novel is a profoundly authentic and heartbreaking tale of the things we keep locked away inside us, even from ourselves.
ADVANCE PRAISE
"How I admire Lois Metzger's thoughtful and suspenseful novel—the pacing, the sympathetic characters, the emotional astuteness, the believable near-future setting. It captivated me from the first page to the last." —Gail Carson Levine, author of
Ella Enchanted
"Change Places with Me is a vivid, beautiful novel, a particular evocation of a story many of us have lived and all of us know. Read this to see what I mean." —Kim Stanley Robinson, Hugo Award-winning author of
Aurora
PRE-ORDER
Are you interested in pre-ordering Change Places With Me after reading that amazing summary! Good news, you can do so at any of the sites below!
DISCUSSION ON MENTAL ILLNESS
My review for Change Places With Me will be live on the blog a little bit closer to the release date, but I wanted to have a discussion about this book now because I think it is extremely important in terms of the representation for mental illnesses.
That being said, I wanted to bring in the community a little more on my blog. I wanted people with mental illnesses to write about mental illnesses, and I want to
make
my blog a safe space where people can share their thoughts without being criticized.
So, I asked a few bloggers if they would be willing to write about mental illness, whether it is their own struggle or just some thoughts that they have on mental illness itself or the stigma against it. These posts will be going live in the next few days, but I wanted to give a brief introduction here so that it wasn't too surprising when they started showing up on the blog.
That being said, be on the look out for these posts. I encourage you to participate in the discussion by using the comments. If you have something to say or something you would like to address about mental health, please contact me (iamabookjunkie@gmail.com or @iamabookjunkie on Twitter) and I would be happy to let you guest post on the blog!
FACEBOOK CHAT WITH AUTHORS
Information on the FB Chat. Over the course of February and March, Hannah from Irish Banana Blog Tours was so kind and put together a Facebook chat with some of the authors featured in the Summer tour! Sadly, these two chats have already passed. But, if you want to see some of the questions that were asked and the responses, you can click on the links below!
February Chat
March Chat
GIVEAWAYS
You read that right, giveawa
ys.
Harper has been so nice as to sponsor two AMAZING giveaways for the Harper Summer 2016 tour! Read down below to see some amazing prizes and enter to win them!
Giveaway #1 – A Harper Teen Summer 2016 Catalog prizepack of 45 books*.
*Titles not included: The Crown by Kiera Cass, Escape from Asylum by Madeline Roux, Sing by Vivi Greene, The Countdown by Kimberly Derting, & United As One by Pittacus Lore
In addition to the one massive prize winner, we will also have
4 winners who will be able to select 3 titles they want from the Summer 2016 Catalog.
(US Only)

Giveaway #2 – 5 Finished Copies from the Harper Teen Winter 2016 Catalog
5 books are: Front Lines by Michael Grant, Revenge & the Wild by Michelle Modesto, The Lifeboat Clique by Kathy Parks, Symptoms of Being Human by Jeff Garvin, & The Girl from Everywhere by Heidi Heilig
(US Only)
How to enter:
Collect the daily word from each blog stop during the Harper Summer 2016 Tour (a total of 50). Once you've collected them all, email the complete saying to: HarperTeenTour@gmail.com (mine was in pink!)
Prize Rules:
Winner must have a valid US mailing address to receive the prize
Winner must be over 13
Only one (1) entry per person for Prize #2 – duplicates will be deleted.
Only a completed phrase will be accepted as an entry – do not email each word/phrase daily. Wait until you have the complete saying and then email in.
All email submissions must be received by 11:59 PM EST 3/31/2016.
Winners will be selected 4/1/2016 and will have 48 hours to claim their prize before another is selected.
Participating blogs and bloggers are not responsible for unsent, damaged, and/or stolen prizes offered by the publisher.