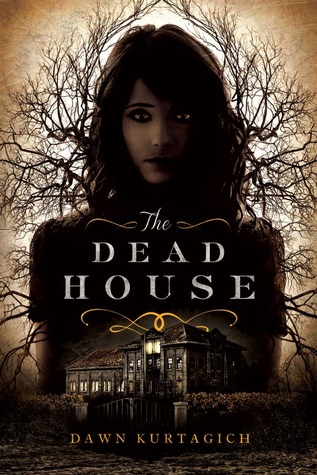 Publisher: Little, Brown Books for Young Readers
Publish Date: September 15th 2015
Page Amount: 432 pages
Price: $18.00 Hardback
ISBN: 0316298689 (ISBN13: 9780316298681)
"Part-psychological thriller, part-urban legend, this is an unsettling narrative made up of diary entries, interview transcripts, film footage transcripts and medical notes. Twenty-five years ago, Elmbridge High burned down. Three people were killed and one pupil, Carly Johnson, disappeared. Now a diary has been found in the ruins of the school. The diary belongs to Kaitlyn Johnson, Carly's identical twin sister. But Carly didn't have a twin . . .

Re-opened police records, psychiatric reports, transcripts of video footage and fragments of diary reveal a web of deceit and intrigue, violence and murder, raising a whole lot more questions than it answers.

Who was Kaitlyn and why did she only appear at night? Did she really exist or was she a figment of a disturbed mind? What were the illicit rituals taking place at the school? And just what did happen at Elmbridge in the events leading up to 'the Johnson Incident'?

Chilling, creepy and utterly compelling, THE DEAD HOUSE is one of those very special books that finds all the dark places in your imagination, and haunts you long after you've finished reading." (Summary from Goodreads)
It has been 25 years since a fire destroyed Elmbridge High School, killing three students, and contributing to the disappearance of another. It has been 25 years since Carly Johnson was last seen, leaving her twin sister Kaitlyn to deal with the aftermath of the catastrophe. It has also been 25 years since Kaitlyn left her legacy behind - her diary she shared with her sister Carly.
The only problem is that Carly didn't have a sister, or a twin.
It has been 25 years, and still, no one knows the answers, to the fire, the diary, or the Johnson family, and it is tough to say that they will ever find out.
The story of Kaitlyn and Carly Johnson depicted in The Dead House is a gripping tale that describes the bond between sisters, but definitely not in the traditional way. I mean, what kind of sisterly-love has to involve fires, the paranormal, and a twenty five year old police investigation that still has gone no where?
This is why I had to pick up this book.
The Dead House is one of the few paranormal thriller books that I have read, and I was unsure of whether or not I would enjoy it. I never have a good time sitting through horror movies - The Possession was difficult for me to watch, and I only remember having my eyes open for the first few seconds of the movie. I don't really like haunted houses, and I have a hard time falling asleep after watching a scary movie. Based on my past experiences, I really wasn't sure that I was going to like it.
But, after seeing the success I had with Black Ice by Becca Fitzpatrick (and you can read my review of this over on Helena's blog), I decided this one was worth a shot too. I didn't want to see another stellar book escape my TBR just because I can be a little frightened with moths (and yes, this is from The Possession, if you did not know.)
I loved it.
After receiving this in the mail one day in August from The Novl from their newsletter, I knew I was meant to read it, and once I started reading it, I couldn't stop. In less than 4 hours, I had devoured this book, and it wasn't just because I knew I needed to finish it before I went to bed.
This book is so outside of the normal realm, and this is one of the reasons I love it so much. I feel as if many authors and writers stray from these topics, simply because they are so outside of the ordinary, and little personal experience can be drawn upon to write books that take place in mindsets like this. I was intrigued when I read the synopsis of the book, and the mysteriousness continued to grow throughout the entire book as a whole.
(As I am writing this review, I do have to mention that I have to be quite vague with the reasons why I liked this book, because of the amounts of spoilers I would be giving out if I decided to mention the details! I am so sorry for being kind of vague, but trust me, you will want to read this book!)
I also loved the mystery and eeriness behind the plot and the characters. As mentioned before, many young adult novels do not typically touch on the aftermath of a fatal fire, let alone the turnout of a police investigation revolving around it! It was new to me as a reader, which only added to the mysterious element. The police investigation had so many questions that were left unanswered, evidence that was not fully completed or analyzed, psychiatric reports that seem one-sided, and fragments of information that would never be known to exist. I love that Dawn decided to include these pieces of the plot, because it is something completely unique to The Dead House, something that I have never seen before. These plot devices have so many open endings - because a lot of information is not known - which allows the reader to question everything that they hear from the characters, and also make an infinite amount of predictions.
The characters also had a mysteriousness to them. What the reader hears from them, and what the reader knows of them from other characters often contradict one another. I didn't know who I could trust, and that is what I loved about it. Nothing that I knew was certain. At all. It was a mystery in combination with a thriller, something that is once again unique to Dawn's book alone.
As for the characters themselves, I really loved the different "archetypes" of characters that existed in the story. Carly is a sweet, lovely girl who would never hurt a fly, and is friends with everyone. She struggles with anorexia, and has had to go to therapy to help with her recovery. Kaitlyn is almost the exact opposite. While she doesn't want to hurt anyone, she somehow always ends up hurting the ones that she loves. She loves the night, and cannot stand socializing with Carly's friends. But she will do it, because she loves Carly, and would do anything for her. While Carly and Kaitlyn carry only a few examples of the archetypes, it is clear that the majority of people will match somewhere in the identities of the two characters. This book encompasses the entirety of day and night, light and dark, black and white. The reader will find someone to relate to, whether or not they actively search for it. I love that I am able to connect with so many different characters for so many different reasons, and I am not only seeing myself represented in "one character" because they only represent "one archetype". The characters in The Dead House have way more than one archetype. I see myself in all of them, to an extent.
My favorite thing about this book has to be the formatting. Although I did not actually receive the following ARC, it reminds me of Illuminae. The Dead House includes police reports, photos, video transcripts, journal entries and more, and all are formatted in a way that make it not only pleasing to the eye, but also very easy to read too. The fonts and artwork that were included in the ARC were very easy to read and contrasted nicely with the layout and color of the pages. This is by far one of the most artistic and aesthetically pleasing books I've ever received.
(I am actually away on vacation right now, so I am having trouble uploading the pictures of the books that I have taken. I will upload them soon!)
Overall, I really loved The Dead House. The insane amount of plot-twists, mysterious characters and frightening resolution that the Dead House provides is sure to make any horror/thriller fan happy. The Dead House by Dawn Kurtagich is a bone-chilling, mysterious and paranormal thriller that is sure to keep readers on the tips of their toes and guessing with every flip of the page.
PS: Thank you so much to The Novl for this amazing book!
**I received this book from The Novl in exchange for review consideration or an honest review. This does not affect the content of my review in any way, shape or form. All opinions of this book are my own.**